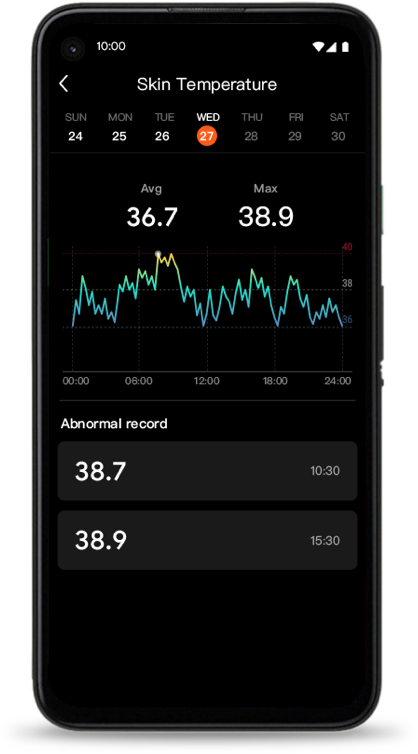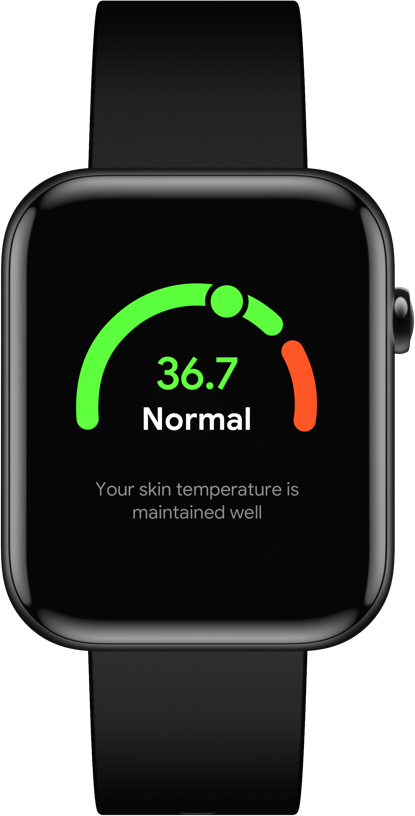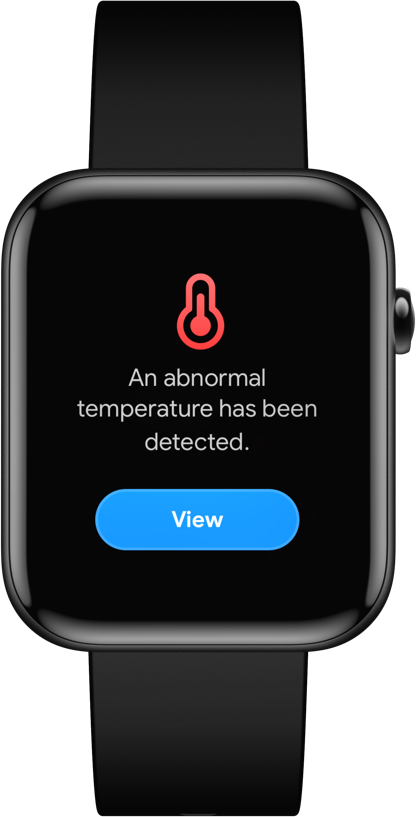 Take health to the next level by continuously tracking your wrist skin temperature* 24 hours a day.
*The temperature feature is not intended to diagnose or treat any medical condition. It is intended to provide additional information about your overall health and well being. Please note that significant changes to ambient temperature may affect accuracy of the reading.
Your temperature is a core indicator as to your overall health. TicWatch GTH's sensor measures directly from your wrist and notifies you of any potential concerns.
With TicWatch GTH monitoring your temperature all day and night, it can alert you when health issues arise, allowing you to act quickly.
With up to ± 0.1°C measurement accuracy**, the temperature sensor allows you to take on-demand readings within just a few seconds.
**The statistics were collected in a laboratory under controlled conditions by Mobvoi.
Monitor your blood oxygen levels* intelligently with built-in sensors 24/7. Easily access and view trends over time.
* Blood oxygen measurement is not intended for medical use but is designed for fitness and wellness.
Keeping track of your blood saturation (SpO2) levels helps you understand how well oxygen is being sent throughout your body. The blood oxygen sensor in the TicWatch GTH uses photoplethysmography (PPG) technology to accurately measure the oxygen saturation in your bloodstream.
The SpO2 sensor detects your oxygen saturation level, by shining an array of LED lights into the blood vessels in your wrist.
Follow your heart with 24 HR heart rate monitoring.
Continuously monitoring your heart rate when you are working, exercising and even while you sleep. Get detailed visualizations of your heart health in real-time.
Find that healthy balance between breathing in and breathing out.
Your respiration rate is the number of breaths that you take per minute. By monitoring this it can help detect early changes in your health.
Are you stressed? Let's find out!
TicZen turns your heart rate variability data into insights about your stress level throughout the day.
Take a deep breath in, relax and let go.
TicBreathe offers guided breathing exercises to help you focus and relax.
A good day starts with a good night's sleep.
A good night's sleep is key to maintaining good health and reducing stress. TicSleep tracks your light and deep sleep cycles, the duration, and quality of your sleep. Wake up each day with a sleep quality rating based on last night's sleep routine.
Inspire you to get moving.
Launch your workout session by choosing one of fourteen workout modes right on your wrist. Get your body moving on your time.
Smartly reminds you to start recording your workout.
TicMotion™ proactive workout detection* detects when you start working out and reminds you to start recording the activity.
*TicMotion can proactively detect an indoor or outdoor activity for walking, running, and cycling.